LATEST NEWS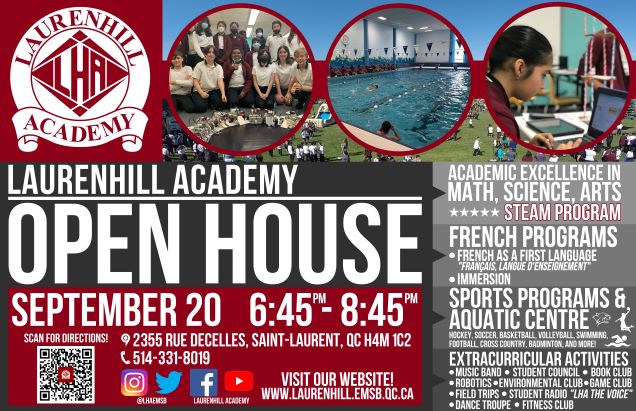 CLICK HERE TO WATCH OUR OPEN HOUSE TOUR


OPUS - LHA Junior CAMPUS



Missed our Open house? Please contact us!
Junior Campus: 2355 Decelles, St. Laurent, QC, H4M 1C2 514-331-8019
Senior Campus: 2505 Cote Vertu, St. Laurent, QC, H4R 1P3 514-331-8781


STEAM
Consult the pamphlet for more informations about STEAM at LaurenHill:

Être bilingue, c'est gagnant!
By: EMSB Communication
Consulter la section en français | Go to the English Section
With the highest success rate in graduation and qualification among public school boards in Quebec, the English Montreal School Board (EMSB) is the first choice for an excellent bilingual education.
Supported by a team of dedicated and talented teachers, administration, support staff, parents and volunteers, our students are well positioned to graduate as bilingual young people, ready to further their studies and participate fully in a multicultural society.
We invite you to explore the website and discover the ways EMSB delivers top-notch French instruction.

EMSB set to introduce Quebec Virtual Academy
By: EMSB Communication
The English Montreal School Board is launching Quebec Virtual Academy for the 2022-23 academic year. Students from across the province with English eligibility, and who meet the criteria established by the Ministry of Education, must apply by September 9.
EMSB Online Resources & Educational Websites
Visit the EMSB's educational resources section for educational and mental health support links for families. Links and activities for elementary and high school students are available.
Click here to visit the EMSB Education website
The provincial Government also has a new educational website called Open School where you can find more educational activities for your children.